At some point, a growing small or medium-size business comes face to face with a basic question: How do we manage our relationships with our customers?
By using
customer relationship management
(CRM) software, a business owner can track customers' shopping and buying habits, information about new prospects, sales, vendors, past interactions via social media and more. A good CRM system organizes all this information and makes it easily accessible, allowing team members to work more efficiently and productively.
CRM software was once reserved for corporations and enterprise-level businesses that had access to the technology — and the resources to use it. But as more software vendors have developed CRM platforms, adding features and honing both functionality and integration, this powerful business tool has been refined into versions easier to use and more affordable for companies of all sizes.
Today, there are many CRM solutions designed especially with small businesses in mind.
Insightly: Integrates with Gmail & Google apps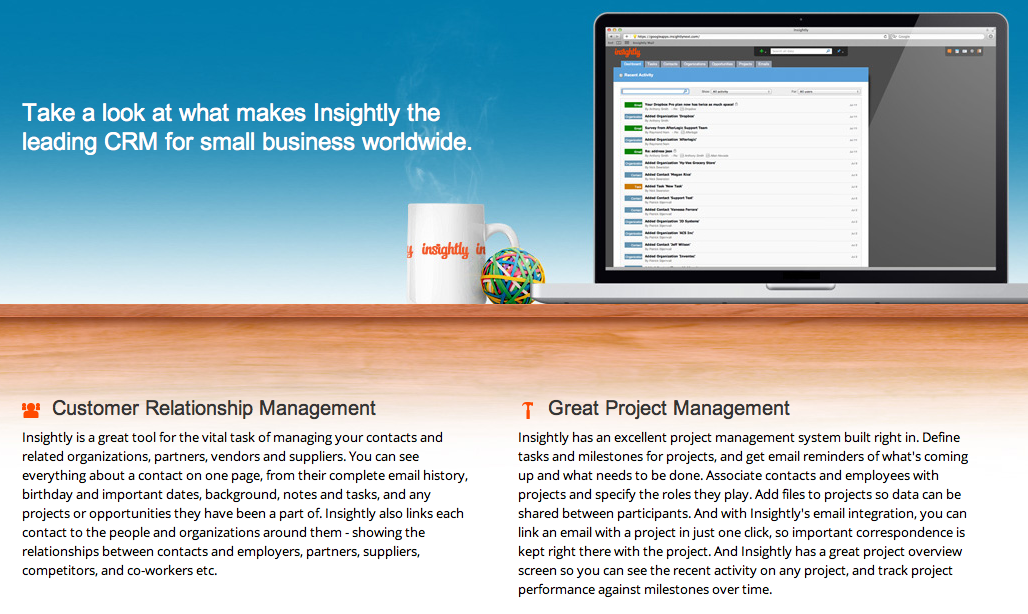 1
The small business CRM system
Insightly
packs a lot of powerful features into an extremely affordable package that integrates fully with Google's increasingly popular Gmail and suite of Google apps. Its project management tools — which include conversation histories, customer profiles and a data management suite that associates email attachments with users and related projects — are well developed and intuitive. The flexible calendar system allows users to add, update and share meetings and events with ease. With on-the-fly customization, users can add custom fields and filters to suit their display preferences. A built-in notification system keeps everyone up to date, and with mobile apps for iOS and Android, this platform is ideal for remote workers who need access from anywhere. Insightly also includes social media integration with Twitter.
Cost: The basic service is free for up to three users, and business owners who select additional features, users and storage can expect to pay about $5 per user per month with paid levels of service beginning at $29 for 4-6 users per month.
SugarCRM: Open source solution does a lot out of the box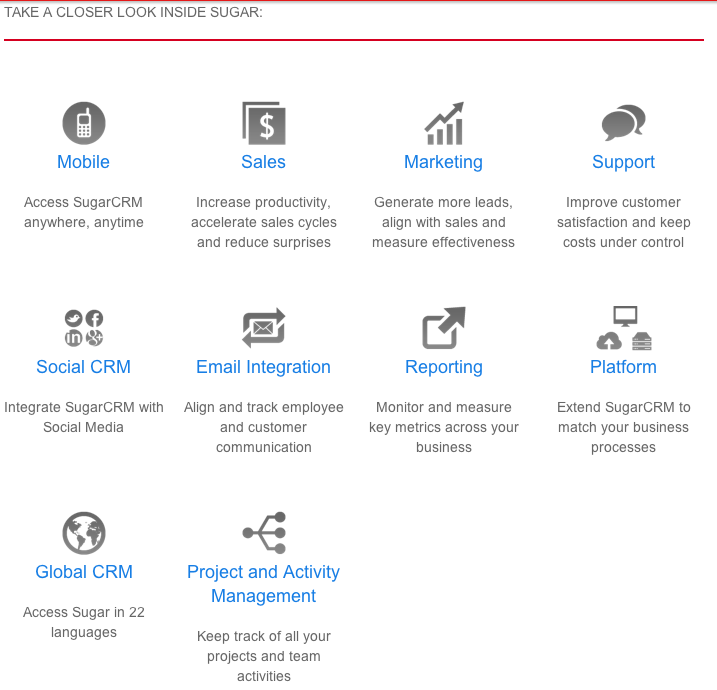 2
Sugar
, an open source CRM application, can be customized to meet even the most particular needs of a small business. The system supports sales, marketing, customer service, email, calendar, conferencing and project management right out of the box. It also integrates fully with the WordPress platform and popular social media sites. The Sugar community has already built some extensions and created new integrations that users can leverage to expand their data management and customer outreach toolkit. As an optional upgrade, SugarCRM also offers versions for mobile phones and tablets.
Cost: The price is a bit steep starting at $35 per user per month, but if your business needs an extensive, robust CRM platform and has the IT staff to support customization efforts, Sugar may be the smart choice.
Nimble: Addresses your 'social listening' needs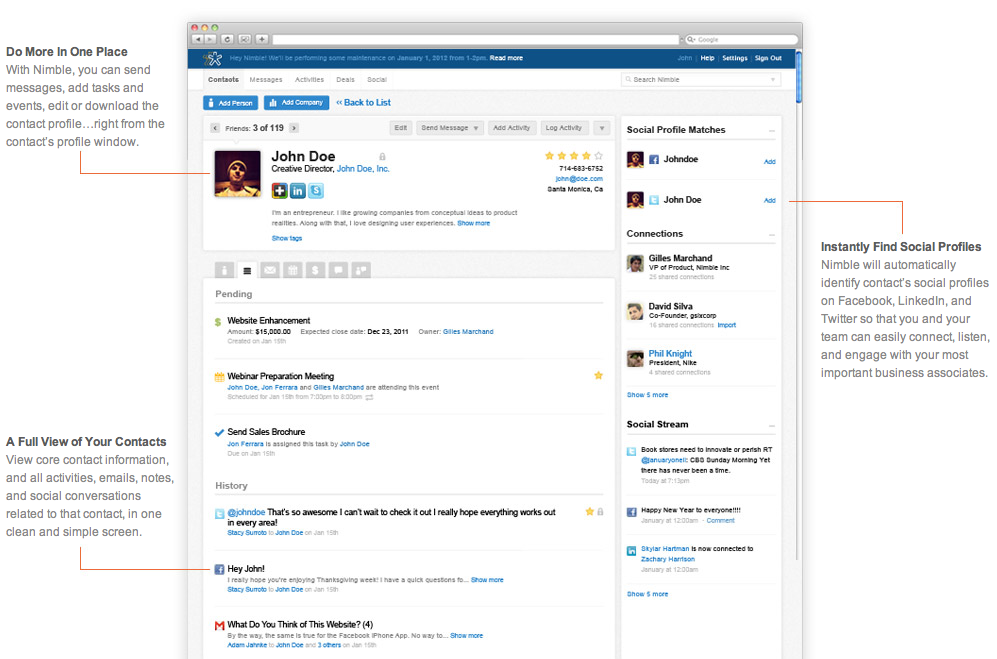 3
With an emphasis on social CRM (SCRM),
Nimble
delivers a feature-rich experience at an affordable price. The platform uses a familiar, social-media-style interface that integrates with Facebook, Twitter, LinkedIn and more to provide a unified stream of your CRM information in the social sphere. Nimble's feature set also includes sales and marketing tools, activity management with calendar import and sync, a "social listening" feature that allows users to set search parameters for terms that appear in the Twitter and Facebook streams, and app add-ons for extended features like lead capture and analytics.
Cost: Users who like what they see after trying a free personal account can upgrade to a business plans priced at $15 per user per month.
Zoho CRM: Free version is a strong choice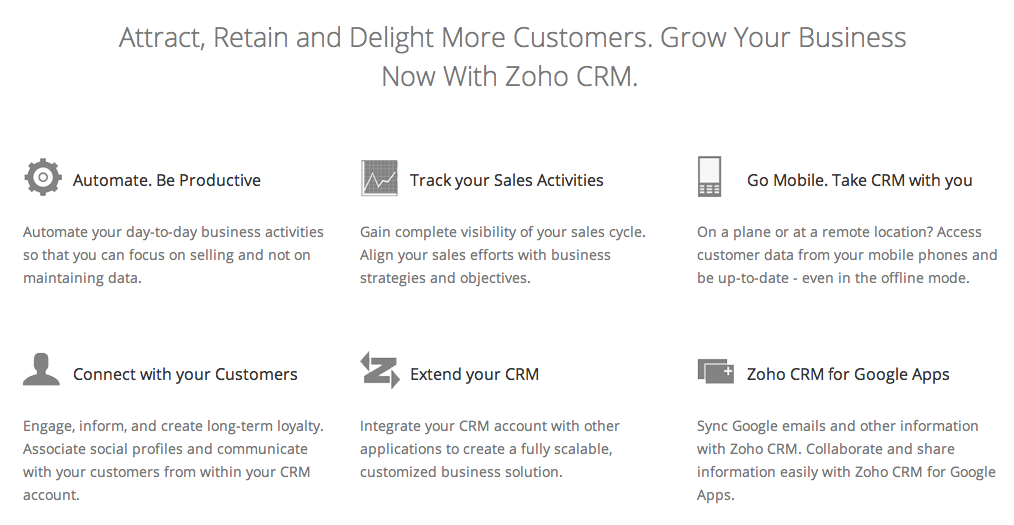 4
A healthy feature set and excellent pricing options including a free version for up to three users makes
Zoho CRM
a strong choice for small business. Some of the tools that come with Zoho's free version are social CRM integration, reports and dashboards, and lead and contact management. Paid versions include features like sales forecasting, marketing and workflow automation, and advanced CRM analytics.
Cost: The professional level Zoho plan is $12 per user per month, while the enterprise level runs $25 per user per month.
Prophet: Integrated with Microsoft apps
5
Avidian
Prophet
offers all of the core tools and functions you'd expect from a modern CRM platform. Integrating closely with Microsoft applications, it offers Outlook users an interface that focuses more on familiarity and user-friendliness than powerful, nuanced features. And because its functionality is tied so intimately into that of Outlook (some functions even require the use of a Microsoft Exchange Server), it may have a bit of a steeper learning curve for those who aren't already using Microsoft's office suite.
Cost: The hosted cost of Prophet starts at $45 per user per month or can be set up on a local server for a one-time charge of $500 per user.
With such a wide range of pricing and available features, choosing a CRM platform is about so much more than which system has the lowest price tag. The total cost of any CRM solution isn't always reflected in the up-front fee, and it's worth your time and energy to determine which system has the right balance of features and affordability that best fits your business. Choosing the right system for your business lets you tackle customer relationship management in a new way and take your business to the next level.
Filled Under: